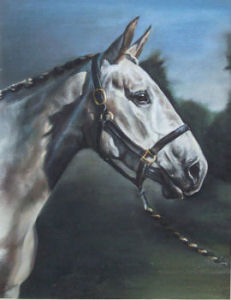 Katrina has worked on a wide variety of commisssions. From traditional animal and human portraiture, in oils or pastel, to specific landscape requests. Her mixed media work has suited many of the competition horses 'in action' she has been asked to portray and her line drawings have been adapted for more commercial purposes, such as for company logo's.
The gallery contains a few examples of past commisions. However, since everyones needs are individual, Katrina likes to discuss clients requirements in person.
Commission prices start fom £450 for pastels and £650 for oils. This includes a choice of framing to suit. Please telephone Katrina for more help.